Curriculum Intent
Mission Statement and Curriculum Intent
Our Catholic mission is to educate, develop and inspire every unique child entrusted to our care to be the person that God calls them to be. Through Christ, our children will be empowered to thrive academically and spiritually within a community of dignity, love and respect.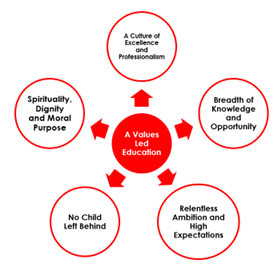 Our skilled staff act as role models for all our students. The curriculum and learning experience is rooted in the Gospel values and is at the heart of all we do. We have fostered a culture of spirituality, dignity and moral purpose and expect everyone in our school community to treat each other with the love and respect that Jesus himself showed to others. Through our Catholic Social Teaching and our commitment to charity work we encourage a culture of putting others before ourselves

We embody a culture of excellence and professionalism. Through our knowledge-engaged curriculum we provide all students with a breadth of opportunities to enhance their life chances and empower them beyond school life. The curriculum fosters a love of learning and is well delivered by highly skilled subject experts. Our commitment to professional development is high and comprises internal high-quality CPD, coaching programmes as well as nationally recognised external programmes such as the NPQs (National Professional Qualifications).

Our wider curriculum includes a plethora of opportunities for all students to enhance their own experiences and understandings of the world around them. The super learning day and tutor programmes incorporate metacognitive skills through our VESPAR (Vision, Effort, Systems, Practice, Attitude and Resilience) programme as well as developing students' knowledge of careers, financial management, an understanding of current affairs, RSHE and literacy.

Our pupils are children of God, and we recognise every child's individuality regardless of background or ability. We welcome and value students from every background, faith and culture.

We ensure a respectful and disciplined environment within high-quality pastoral care and support. Every child knows who to go to if they feel unsafe or need someone to talk to. Students are educated to keep themselves safe within a high-quality pastoral and RSHE curriculum and via our super learning days.

We believe that every child is a child of God, and the individuality of every child is recognised. Pupils are well supported to become the very best people they can be through a culture of high expectations. Our excellent careers guidance at all key stages helps every student to understand what they need to know for their future pathways

Through Christ our children will be empowered to thrive academically

Our motto 'Achieving Together Through Christ' recognises how Christ's example for us all leads to all students having every opportunity to achieve excellent outcomes taught through our engaging and relevant curriculum. We believe every child can be successful and within our culture of high expectations for all, no child is left behind. We foster a culture of the right support at the right time to overcome any barriers students face whether that be SEND, EAL, disadvantage or emotional needs.

and spiritually within a community of dignity, love and respect.

Every child is encouraged to develop themselves personally through the Catholic faith and ethos of St Edmund Campion Catholic school. Students learn of the Jesuit values and are encouraged daily to meet these values and treat each other as Jesus showed us. We expect every student to be responsible citizens and promote a community of peace, tolerance, justice and service. Our staff are well looked after and in turn are committed to showing our students dignity, love and respect.
Curriculum Intent
The key aim of the curriculum at St Edmund Campion is to educate, develop and inspire every unique child entrusted to our care to be the person that God calls them to be. Through Christ, our children will be empowered to thrive academically and spiritually within a community of dignity, love and respect.
Our curriculum is designed to meet the needs of all learners and will provide:
A breadth of knowledge and opportunity for every child regardless of background. It will be a curriculum and learning experience rooted in the Gospel values and the teaching of Jesus Christ
A broad yet balanced tapestry of academic, social, moral, cultural and spiritual development
Subject learning that takes students beyond qualifications and prepares them for life beyond school
Empowerment to our students so that they leave with a legacy of knowledge and ideas which they can draw on in the future
Numerous opportunities to practise new skills and learning so that pupils' confidence is built over time
A broad, ambitious and appropriately demanding learning experience for all
A well-sequenced and challenging curriculum that is vertically integrated and develops ordered schema in pupils' long-term memory and ensures progression through the Key Stages
Challenge, rigour and coherence through our learning journey
Equity for all our students and a commitment to addressing social disadvantage
A strong commitment to reading
A significant focus on retrieval and long-term memory supported through our whole school approach to homework and assessment.
Our courses in Years 7 to 11 comply with the requirements of the National Curriculum. This has been audited and is reviewed each year.
The curriculum is broad, balanced and rigorous. The subject matter is taught in a way that is faithful to its discipline and the uniqueness of each subject is celebrated and shared. Through our curriculum, we have thought carefully about how to make the curriculum focused and coherent for our learners. We continue to review and evaluate how it is sequenced so that it is vertically integrated, and work builds on prior knowledge. We have carefully identified what pupils need to 'know' and 'show and have carefully aligned adaptive teaching, pedagogy and assessment.
All National Curriculum subjects are taught throughout Years 7, 8 and 9. All pupils are taught Mathematics, English, RE, Science, Spanish, Physical Education, Geography, History, Drama, Music, Textiles, Food Science, Art, and Computer Science. All students in Years 7-10 take part in Talents, Abilities and Gifts (TAG) once a fortnight, a lesson that allows students to choose an extra-curricular option and explore learning that they would not usually be able to access as part of the usual school day. The learning is grouped under three headings 'Hand, Heart and Head' and has been designed as an opportunity for pupils to engage in new meaningful learning experiences designed to enhance cultural capital.
Reading and literacy are at forefront of pupils' daily experience and are prioritised to allow students to access the full curriculum offer and cultural capital. Reading is also a key part of our pastoral programme and dedicated time is given through form time to a reading programme.
At Key Stage 4 our options process enables all students to pick three subjects of their choice; this gives flexibility for students to focus on humanities, a language, arts or practical/ vocational subjects in addition to the required academic core. Students are encouraged to complete the EBACC, and we offer Spanish, French and Polish to our students, reflecting the diversity and needs of our school. There is also the opportunity for students to embark on new subjects that are not a feature of the Key Stage 3 National Curriculum e.g., Health and Social Care, Child Development, Business Studies and Sport and Leisure.
The curriculum from KS3 to KS5 is supported by a well-sequenced PSHE and Relationship, Sex and Health Education (RSHE) programme delivered through form time. As a fully inclusive, multi-cultural school we promote the fundamental British values of democracy, the rule of law, individual liberty and mutual respect and tolerance of those with different faiths and beliefs.
Careers education matters to us. We are passionate about supporting and preparing students for their next steps. Whether that be through offering high-quality guidance or career experiences, we want students to feel empowered and well-informed about the multitude of opportunities available to them.
We believe that a breadth of subject and careers knowledge provides our pupils with a superb starting point in life, ensuring no child is left behind. We provide impartial careers advice and guidance on further education, training or employment across all key stages and work with an array of employers and education providers.
Assessment
We understand the link between adaptive teaching, curriculum and assessment. As a result, we use assessment data to carefully inform teaching and use a range of formative and summative methods to support us in closing learning gaps. Reteach weeks are assigned after each progress test to support learning consolidation and effective use is made of regular low stakes quizzing and Quality of Written Communication tasks.
At St Edmund Campion we run a two-week timetable consisting of 50 hours per fortnight. As a Catholic School Years 7 to 11 spend 10% of their curriculum allocation in RE. Whilst Post 16 students spend 5% of their curriculum allocation in Core RE.
Curriculum Allocations
Curriculum Allocations (Hours per fortnight)
Subject

Hours per Fortnight

Year 7

Year 8

Year 9

RE

5

5

5

English

7

7

7

Mathematics

8

7

7

Science

6

7

7

History

4

4

4

Geography

4

4

4

Spanish

3

3

3

Computer Science

2

2

2

PE

3

3

3

Art

2

2

2

Drama

1

1

1

Music

2

2

2

Textiles

1

1

1

Food Science

1

1

1

Talents and Gifts

1

1

1
| | |
| --- | --- |
| Subject | Hours per Fortnight |
| RE | 5 |
| English | 7 |
| Mathematics | 8 |
| Science | 12 |
| Core PE | 3 |
| Option A | 5 |
| Option B | 5 |
| Option C | 5 |
Students will complete 'core' subjects as structured below. In addition, at the end of Year 9 students select 3 option subjects.
Post 16
In the Sixth Form students are required to follow a suitable 16-19 Programme of Study. The programme of study includes qualification hours and non-qualification hours. In Year 12 students opt for three qualifications each allocated 10 hours per fortnight from a choice of:
A-Level
English Literature, Mathematics, Biology, Physics, Chemistry, History, Geography, Spanish, Psychology, Art, Government and Politics, Sociology, Theology.
Vocational
Sport and Leisure, Health and Social care, Business Studies, IT, Applied Science, Criminology
In addition students study the NOCN Core RE programme and other options include the EPQ, Core Maths and GCSE resits in English and Mathematics.
One hour a week is also dedicated to an enriching extension studies programme.
Subjects: