How to Get Involved
Staff Reflection
At the beginning of every staff meeting, a different department will lead a time of prayer. This is an opportunity to prioritise Christ, offer thanksgiving for our roles as educators and call upon the Lord's intercession before commencing another busy day.
"Be concerned above everything else with the Kingdom of God and with what he requires of you, and he will provide you with all these other things." (Matthew 6:33)
Staff will often make their prayers and reflections more personal by including their own thoughts, challenges and experiences. Staff reflection enables us to grow closer as a faculty team and closer to He who made us and called us to this incredible vocation.
Rosary Club
Every Wednesday, Mr Sorroll provides an opportunity for staff and students to pray the most holy Rosary together. He encourages those gathered to share their own prayer intentions and invites them to stay for however long they are able to. This is a great time of retreat, away from schoolwork, social pressures and other worries. All are invited to seek comfort and counsel from our Mother Mary, who loves us as her own.
"He said to his mother, "He is your son." Then he said to the disciple, "She is your mother."" (John 19:26-27)
Liturgy of the Hours
The Liturgy of the Hours is the prayer of the whole People of God. In it, Christ himself "continues his priestly work through his Church." His members participate according to their own place in the Church and the circumstances of their lives. The laity, too, are encouraged to recite the divine office either with the priests, among themselves, or individually.
The celebration of the Liturgy of the Hours demands not only harmonizing the voice with the praying heart, but also a deeper "understanding of the liturgy and of the Bible, especially of the Psalms."
(Source: https://divineoffice.org/liturgy-of-the-hours/)
Every alternate Tuesday, starting at 08:20, all staff and students are welcomed to the school chapel to join in Morning Prayer (Lauds). This offers the perfect start to the day, by calling upon God's intercession for the many challenges that lie ahead.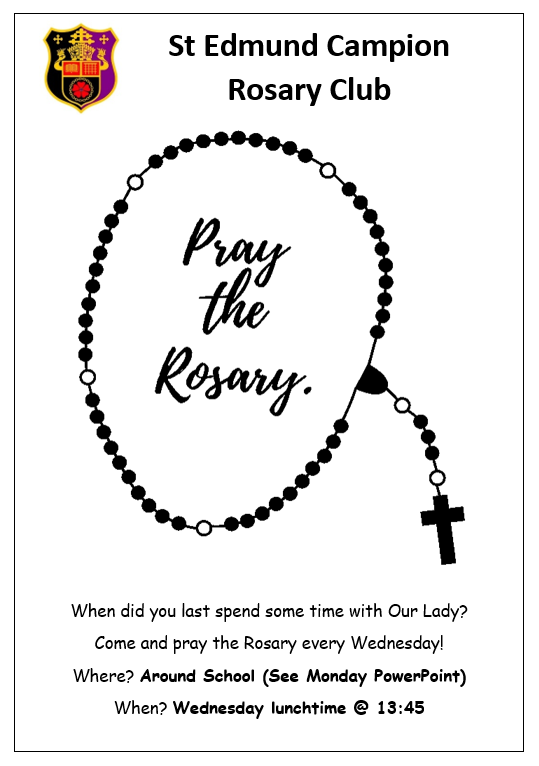 Chosen Watch Parties
'The Chosen' is the first-ever multi-season series about the life of Christ. It is also the biggest crowdfunded project in television history! Now in its third season, it is estimated that the show has been seen by over 108 million people around the globe. Unlike previous films and shows about Jesus, this show is told from the perspective of our Lord's disciples. We meet each of the twelve as they first encounter Jesus and we then watch both, their amazement and utter confoundment as Jesus continues His ministry. Through time, they will learn the truth about Jesus and eventually grow into the saints we love and revere today.
Every Monday, Mr Sorroll makes this show available to watch in the chapel. Everyone is invited to see this remarkable series which brings the Gospels to life in a way like no other!
Me and My Favourite Saint (YouTube Series)
The saints are holy men and women of God who have gone before us, but continue to inspire us with their lives. Like us, many saints began their lives in the most humble and ordinary of ways. Some saints were even renowned sinners, completely estranged from God and His righteousness. In this video series, we hope to explore the lives of saints in greater depth. By learning more about these holy men and women, we can draw from their experiences and make changes to our own circumstances. All people are on their own journey to sainthood and this video series hopes to make that journey a little clearer. If you would like to add to this series by appearing on film to discuss the life of your own favourite saint, please visit Mr Sorroll in the chapel!
"After this I looked, and there was an enormous crowd—no one could count all the people! They were from every race, tribe, nation, and language, and they stood in front of the throne and of the Lamb, dressed in white robes and holding palm branches in their hands. 10 They called out in a loud voice: "Salvation comes from our God, who sits on the throne, and from the Lamb!"" (Revelation 7:9-10)