West Midlands Police - Working Together
St Edmund Campion is committed to keeping our students safe, both in school and the wider community. As part of our safeguarding arrangements, we have a two-way information sharing agreement in place with West Midlands Police. The agreement is compliant with Crime & Disorder Act 1998, Data Protection Act 2018 – 2021 Update and United Kingdom General Data Protection Regulation (UK-GDPR); and focuses on preventing young people from becoming involved, or further involved, in crime and anti-social behaviour, as either a victim or offender. If you have any queries about the partnership policy, please contact Mrs J Fleming at school.
To enhance this working arrangement with our Local Police in Erdington and the Police and School's Panel, we have the support of our School's Police Officer PC Roy Pritchard who comes in to school on a weekly basis.
He works alongside the Safeguarding team in supporting our pupils if there has been an incident either in or out of school. He will speak to the pupils, with a member of staff always present, to advise and guide them about their concerns but also their responsibilities. PC Pritchard will also work with parents if required as well in relation to school matters. He also completes Safeguarding safe and well visits to families if we are concerned that a pupil has not been in school for a number of days.
We welcome this support at St Edmund Campion.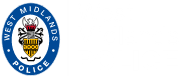 Erdington Policing