Safeguarding and Wellbeing Hub
St Edmund Campion School views the health, wellbeing, safety and welfare of its students in the highest regard. We are committed to safeguarding and with a community spirit, we work together to ensure that our students grow and thrive in a safe and supportive environment, regardless of their age, ethnicity, religion, disability, sexual identity or gender. We have very high expectations on all staff to share these values. We are committed to providing regular training in relevant safeguarding and child protection issues and are kept up to date with changes in legislation and practice.
The school is pro-active in its approach to working with outside agencies to safeguard children and young people, seeking the most relevant support for individuals and families. St Edmund Campion works with external organisations to help promote and educate on safeguarding themes within the school. This is also achieved through covering safeguarding topics in the curriculum, assemblies and through the everyday pastoral systems in place at our school.
We are dedicated to ensuring that children and young people are valued, respected, listened to and taken seriously especially with regard to their safety and wellbeing. We actively encourage our students to report concerns and we provide a safe, supportive environment for them to do so.
St Edmund Campion have a team of designated safeguarding leads who have undertaken appropriate safeguarding training, but we also ensure that safeguarding the students and promoting student welfare is paramount to each member of staff working at our school.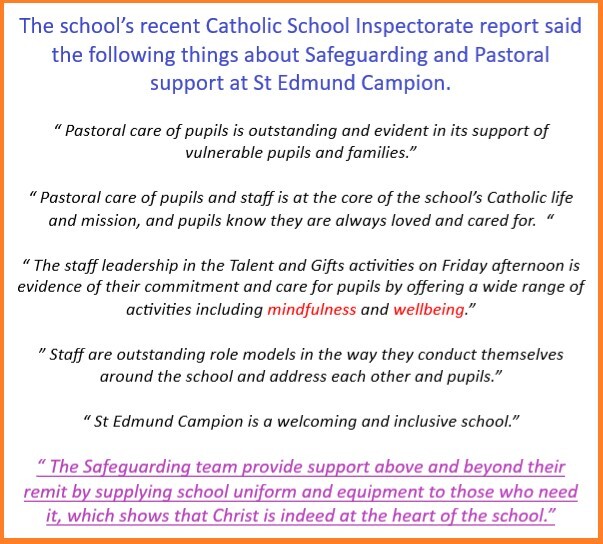 Safeguarding team at St Edmund Campion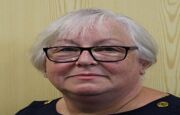 Mrs J Fleming - Safeguarding / Mental Health Lead
Designated Safeguard Leads

Mrs J Mattu - Deputy DSL / Safeguarding Support Officer

Mr N Morris - Assistant Principal

Mr J Roche - Pastoral Manager
Mr C Evans - Pastoral Manager

Mrs E Taintey - SENCO

Mr A Grant - Principal

Mrs J Quoroll - Vice Principal

Mr J Harrison - Vice Principal
Parent/Carer
Students
Staff
Safeguarding and wellbeing Newsletters