KS4 Assessment
Year 9, 10 and 11
Students are given a challenging end of year target grade for every subject (these grades can vary subject to subject). They are a number grade between 9-1. The letter 'a' after the grade number indicates that the student has a target at the top of that grade number, the letter 'b' after the number indicates a target in mid range of that grade number and the letter 'c' after the grade indicates a target grade number in the lower half of that grade.
Tests/Assessments are carried out by subject areas on an on going basis.
At three designated assessment points throughout the year, subject areas set a formal assessment that takes prior and current learning into account.
These are graded with a GCSE number 9-1.
End of Year Target
The grades are then compared with the student's end of Year target. The grades are coloured coded following this model: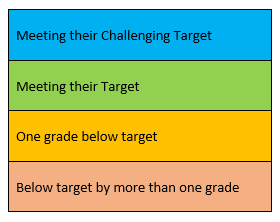 Tracking Sheet
Tracking sheets will be posted home three times per year for all year groups. Your son/daughter's form tutor will write a short comment on the bottom of the tracking sheet. This comment will include a reference to attainment, behaviour, attendance and contribution to the wider life of the school. Written Reports to Parents – Year 7-11